Roll over image to zoom in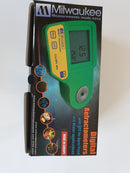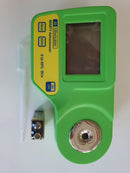 Description
Milwaukee Digital Brix Refractometer, 0-85% Brix
Comes with plastic transfer pipette and battery (case not included)
IN STOCK, DELIVERY 2-3 DAYS
MA871 instrument is supplied with:
• 9 V battery;
• Instruction manual.
The MA871 is an optical instrument that employs the measurement of refractive index to determine the % Brix of sugar in aqueous solutions. The method is both simple and quick.
Samples are measured after a simple user calibration with steam distilled water (starter bottle provided with your unit).
Within seconds the instrument measures the refractive index of the sample and converts it to % Brix concentration units.
The MA871 digital refractometer eliminates the uncertainity associated with mechanical refractometers and is easily portable for measurements in the field.
The measurement technique and temperature compensation employ methodology recommended in the ICUMSA Methods Book (Internationally recognized body for Sugar Analysis).
Temperature (in °C or °F) is displayed simultaneously with the measurement on the large dual level display along with icons for Low Power and other helpful message codes.
Key features include:
• Dual-level LCD
• Automatic Temperature Compensation (ATC)
• Easy setup and storage
• Battery operation with Low Power indicator (BEPS)
• Automatically turns off after 3 minutes of non-use.

Delivery Information
We aim to have orders dispatched and delivered to all major areas within 3-5 business days (if in stock in NZ), for regional & rural areas as well as bulk items, this will take 3-10 business days to arrive.
Orders with large quantities or items coming from overseas may take up to 2-3 weeks to be delivered. 
Orders are able to be tracked online.
We currently only deliver within New Zealand and do not ship internationally at this stage.
All product prices are displayed in $NZD unless stated otherwise and shipping and GST is additional
Payment & Security
Your payment information is processed securely. We do not store credit card details nor have access to your credit card information.