Roll over image to zoom in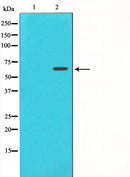 Description
http://www.affbiotech.com/goods-22-af0103_frs2_antibody.html
Alternative Names:
Expand▼
FGFR signaling adaptor SNT; FGFR signalling adaptor; FGFR substrate 2; FGFR-signaling adaptor SNT; Fibroblast growth factor receptor substrate 2; FRS 2; FRS2; FRS2_HUMAN; FRS2A; FRS2alpha; SNT 1; SNT; SNT-1; SNT1; Suc 1 Associated Neurotrophic Factor Target; Suc1 associated neurotrophic factor target 1; Suc1-associated neurotrophic factor target 1;
Applications:
WB: 1:500-1:3000, ELISA(peptide) 1:20000-1:40000
Reactivity:
Human, Mouse, Monkey
Predicted Reactivity:
Pig(100%), Bovine(100%), Horse(100%), Sheep(100%), Rabbit(100%), Dog(100%), Chicken(100%), Xenopus(88%)
Source:
Rabbit
Clonality:
Polyclonal
Purification:
The antiserum was purified by peptide affinity chromatography using SulfoLink™ Coupling Resin (Thermo Fisher Scientific).
Specificity:
FRS2 Antibody detects endogenous levels of total FRS2.
RRID:
AB_2833281
Please cite this product as: Affinity Biosciences Cat# AF0103, RRID:AB_2833281.
Format:
Liquid
Concentration:
1mg/ml
Storage Condition and Buffer:
Rabbit IgG in phosphate buffered saline , pH 7.4, 150mM NaCl, 0.02% sodium azide and 50% glycerol.Store at -20 °C.Stable for 12 months from date of receipt.
Delivery Information
We aim to have orders dispatched and delivered to all major areas within 3-5 business days (if in stock in NZ), for regional & rural areas as well as bulk items, this will take 3-10 business days to arrive.
Orders with large quantities or items coming from overseas may take up to 2-3 weeks to be delivered. 
Orders are able to be tracked online.
We currently only deliver within New Zealand and do not ship internationally at this stage.
All product prices are displayed in $NZD unless stated otherwise and shipping and GST is additional
Payment & Security
Your payment information is processed securely. We do not store credit card details nor have access to your credit card information.