Roll over image to zoom in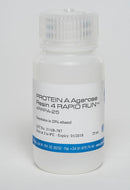 Description
PROTEIN A Resin 4 RAPID RUN
Protein A Agarose Resin 4 Rapid Run™ consists of rProtein A covalently bound to highly crosslinked agarose beads. rProtein A has high affinity regions that are specially bonded to the Fc region of the immunoglobulins (especially IgGs of different species). Protein A agarose beads have been widely used to purify a wide range of immunoglobulins of different mammalian species and also to purify certain IgG subclasses that have no affinity.
| | |
| --- | --- |
| Product Name | Protein A Agarose Resin 4 Rapid Run™ |
| Cat. No. | 4RRPA-X |
| Bead Geometry & Size | Spherical,Standard: ~50-150 µm |
| Crosslinked | Highly Crosslinked |
| Agarose % | 4% |
| Coupling Method | Covalent binding by reductive amination |
| Static Binding Capacity | ~25 mg human IgG/ ml resin |
| Antimicrobial Agent | 20% Ethanol |
| Storage Temperature | 2-8˚C |
Delivery Information
We aim to have orders dispatched and delivered to all major areas within 3-5 business days (if in stock in NZ), for regional & rural areas as well as bulk items, this will take 3-10 business days to arrive.
Orders with large quantities or items coming from overseas may take up to 2-3 weeks to be delivered. 
Orders are able to be tracked online.
We currently only deliver within New Zealand and do not ship internationally at this stage.
All product prices are displayed in $NZD unless stated otherwise and shipping and GST is additional
Payment & Security
Your payment information is processed securely. We do not store credit card details nor have access to your credit card information.